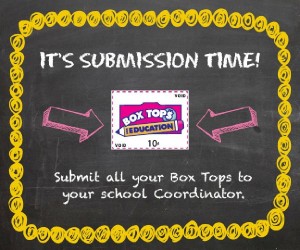 Please send Box Tops for Education, Campbell's Labels for Education, Tyson A+ Labels, and Empty Ink Cartridges to school with your child(ren).
The class with the most collected will earn a PIZZA PARTY!
Box Tops are worth 10 cents each and are on Betty Crocker bake mixes, Pillsbury, Ziploc, Hefty, Chex Mix, Kleenex, Yoplait, GOGURT, Avery office supplies, Cheerios, Green Giant, to name a few. Please trim carefully and send in unexpired only. www.boxtops4education.com
Campbell's Labels for Education are found on Campbell's soups, Goldfish, Danimals, Prego, Pop Secret popcorn, Post Cereals, Spaghettios, Pace, V-8 juice and many more. Trim around the dotted lines and points are worth 1, 5, 10 or even 100! www.labelsforeducation.com
Tyson A+ Project Our school earns 24 cents for each label. www.tyson.com/projectaplus
Ink Cartridges Please put a piece of tape over the print head and place in sealed bag before putting in your students back pack.
This is an easy way to collect $ for our school's wish lists which the school budget doesn't cover! Last year we earned over $3,400! Thank you for helping!